The event "Connecting technology supply - demand in Ba Ria - Vung Tau in 2020" (Techconnect 2020) with about 400 technologies demonstrated and more than 150 organizations ready to transfer technology. Hundreds of businesses have been consulted and connected with partners in key areas such as industry 4.0, agriculture 4.0, energy saving, use of quantitative systems and environmental protection and convenience. smart city benefits; Automated systems in production, management and traceability…
This is information given at the Closing Ceremony of Techconnect 2020 taking place in December 4, in Vung Tau city, Ba Ria - Vung Tau province, coordinated by the Ministry of Science and Technology (Science and Technology) and the Provincial People's Committee. Organized by Ba Ria - Vung Tau.
The event has the presence of Mr. Tran Van Tung - Deputy Minister of Science and Technology, Mr. Tran Van Tuan - Vice Chairman of Ba Ria - Vung Tau Provincial People's Committee.



Mr. Tran Van Tuan shared that within 2 days, from December 3 to 4, 2020, Techconnect 2020 has completed all the proposed contents. This event has a significance in improving the efficiency of state management of science and technology as well as creating a new development step in promoting activities of application, technology transfer and innovation in production, business and social life; Create a forum for local organizations, agencies and businesses across the country to meet, exchange and pose local technology needs to management agencies, scientific and technological organizations, domestic and foreign enterprises in order to promote the application of scientific and technological research results to production and business, contributing to socio-economic development and bringing local practical economic benefits.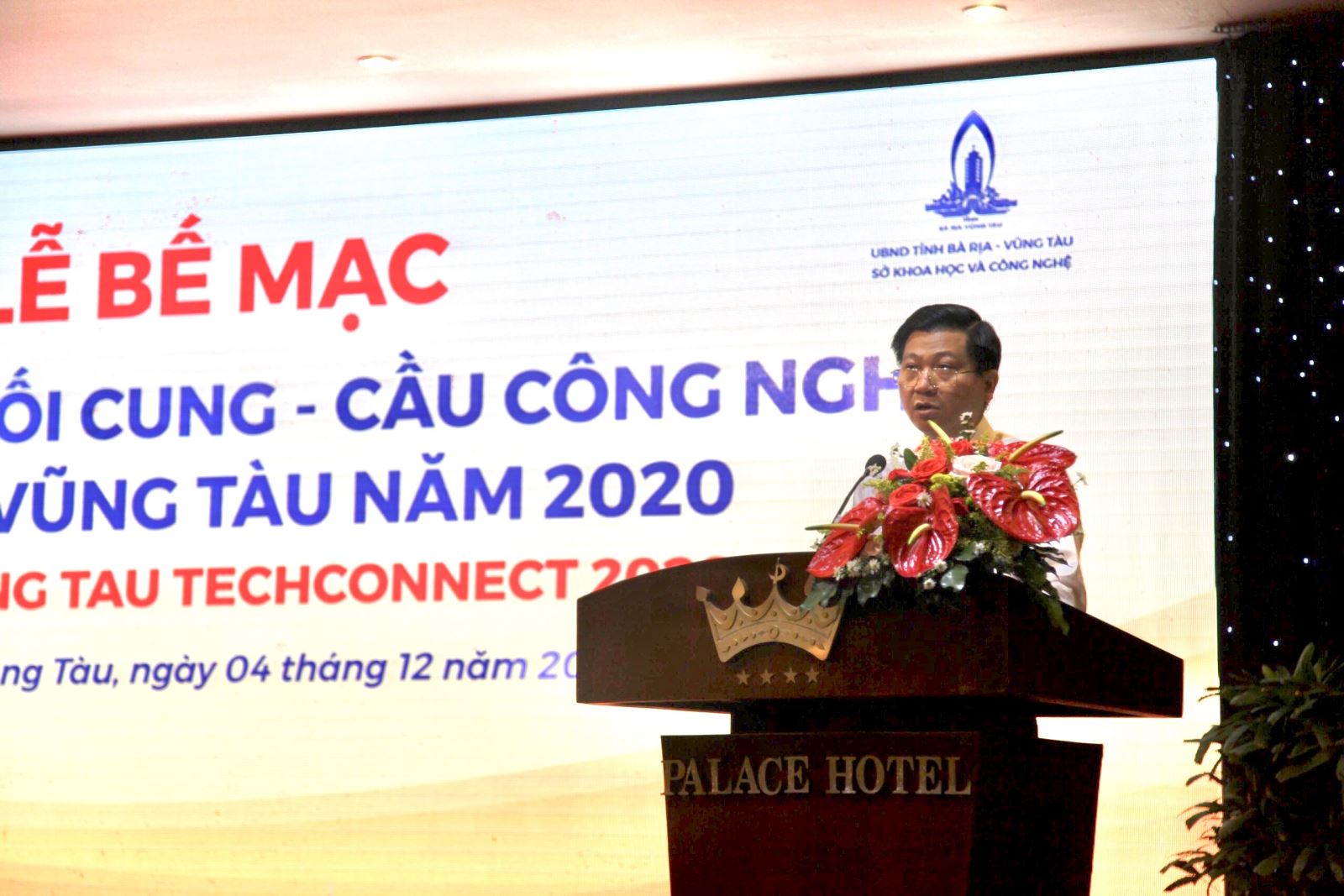 Mr. Tran Van Tuan - Vice Chairman of Ba Ria - Vung Tau Provincial People's Committee giving his speech in the Closing Ceremony.
With nearly 200 booths introduced at the event from institutes, schools, businesses and individuals nationwide with technology/equipment, about 400 technologies were demonstrated and more than 150 units ready to transfer their technology. Some typical technologies such as: Robot; 3D printer; application of 3D technology in production; automatic machinery and technological equipment for agricultural production (unmanned aerial vehicle, crop disease monitoring system, water quality monitoring system); biological products, microbial organic fertilizers, biological pesticides applied in agriculture and environmental pollution treatment; processes and models of organic agricultural production; equipment using renewable energy and other solutions to save energy in production, etc. The event attracted nearly 3,000 visitors from central agencies, organizations, institutes, universities, enterprises inside and outside the province, provincial farmers' associations, farmers' associations of districts/towns/city, youth unions, students in the province to visit and learn about exhibited and introduced technologies.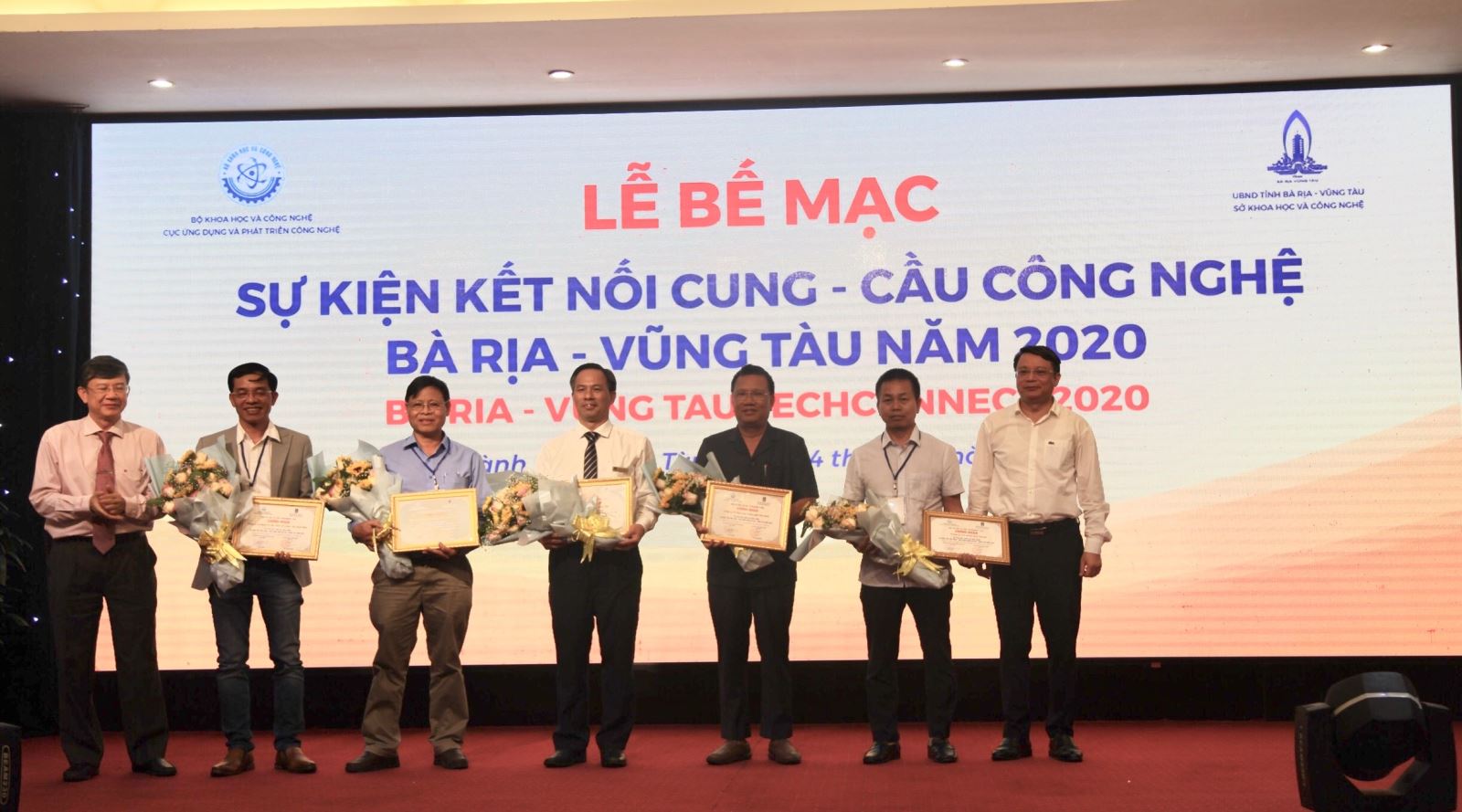 Mr. Ta Viet Dung –Director General of SATI and Mr. Mai Thanh Quang - Director of Department of Science and Technology in Ba Ria - Vung Tau province presented certificates to representatives of exhibitors at the Event.
In this occasion, activities of technology consulting, connection and introduction were held at nearly 200 booths in key technology fields of Industry 4.0, Agriculture 4.0; energy saving, sustainable energy use and environmental protection; smart city; automated systems in production; product preservation and traceability. Besides, there are 30 consulting activities connected through the Organozation Board in fields of Intellectual Property; Technology transfer; Fruit and vegetable preservation technology.
At the event, a scientific conference "Application of high technology in agriculture" with 11 presentations presented by typical experts, scientists and businesses in high technology application in agriculture also taken place which attracting about 300 participants, with many useful contents exchanged and discussed such as: Agricultural development towards high-tech application in Vietnam and proposed solutions for application deployment in the province of Ba Ria-Vung Tau; Application of microbiological technology in aquaculture; Research on the use of specialized lighting in high-tech agriculture; Circular, precision and 4.0 Aquaculture: Future and sustainable development opportunities for Vietnam's aquaculture Industry; Biological products for sustainable agricultural production; Application of drying technology by greenhouse effect to preserve aquatic products; Sustainable smart agricultural ecosystem; Method of preserving agricultural products by cold storage combined with electric field. Many issues were also discussed as: how to connect enterprises and farmers with universities; management upon 4.0 technology in the organization of production, preservation, processing and consumption.
Vice Chairman Mr. Tran Van Tuan affirmed that, with the results achieved, the Event has promoted and enhanced the role of the state authorities in local technology application and development activities; thereby creating new opportunities in cooperation in science and technology to contribute to socio-economic development among provinces and cities in the region as well as nationwide./.